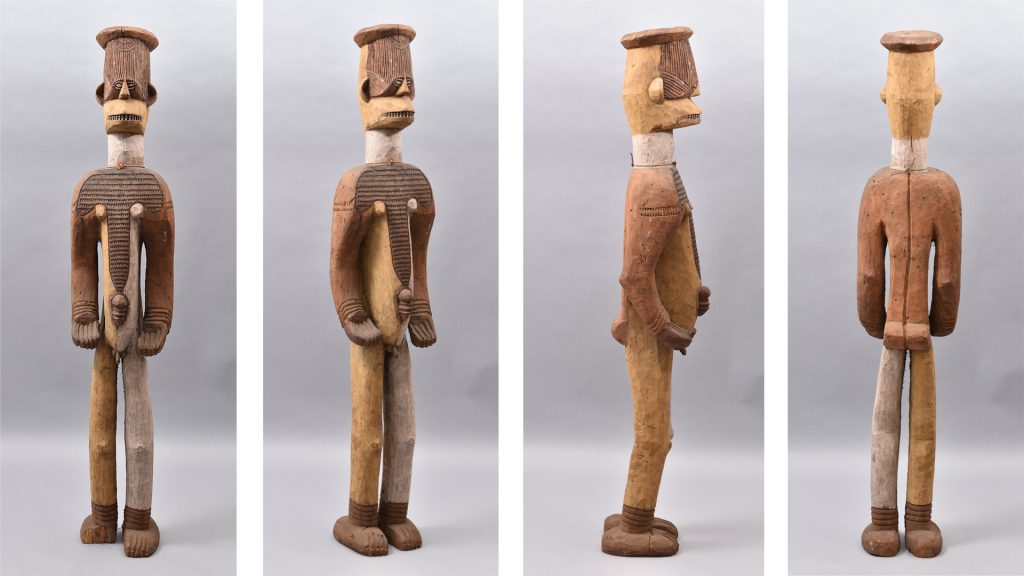 One of the most impressive objects collected by Northcote Thomas during his 1910-11 anthropological survey of present-day Anambra State, Nigeria is this Ngene alusi figure. Thomas appears to have acquired this 1.25m high sculpture in Awgbu, about 11km south of Awka.
Thomas wrote a great deal about alusi (or alose) in his Anthropological Report on the Ibo-speaking Peoples of Nigeria. According to Thomas this referred to a wide range of deities or spirits, which were subordinate to Chukwu, the supreme being of Igbo religion. Some, he explained, had personal names such as 'Ngene' or 'Ofufe', whose shrines were often located in large enclosures, sometimes surrounded by highly decorated walls. These shrines were the locus of weekly and annual rituals, sites for oath-taking and sacrifice. These deities are given material form in different ways, including through sculptures such as this Ngene figure.
In Igbo Arts: Community and Cosmos, Herbert Cole and Chike Aniakor note that in the area around Awka 'sculptures of gods and their supporters are typically arranged against a shrine wall often hung with cult apparatus' (1984: 89). The carvings, they explain, are rarely by the same artist – over time the figures rot, are eaten by termites or otherwise deteriorate and are replaced as necessary. They are repainted and re-dressed during annual festivals, when the community's allegiance to the deities is renewed through feasting and sacrifices.
When we first located the Ngene figure in the University of Cambridge Museum of Archaeology and Anthropology stores, we were struck at how fresh the carving and its paint was. Unlike such figures we have seen in situ, it did not appear to have accrued the signs that it had been installed in a shrine or used in rituals. We know that Thomas commissioned carvers to make other objects he collected, such as a large number of ukhurhe rattle staffs in Benin City, and we wondered if this was the case with Ngene.
Photographing Ngene in the field
Three interesting photographs of Ngene exist from the time that it was collected. During his 1910-11 tour, Thomas began the practice of lining up objects he had collected in front of a cloth backdrop and photographing them prior to shipping them to Cambridge. Numbers are set up alongside each object, and Ngene stands in a row of objects numbered 374 to 388, including two masks, a dance paddle, an iron staff for ozo title holders, two drums, an ogene gong, a rattle, a yam grater, dish, basket, cup and a mat used for carrying the dead. In total, Thomas collected 19 objects in Awgbu. One of Thomas's assistants can be seen on the left holding the backdrop straight.
There are two even more intriguing photographs of Ngene in an album held at the National Museum in Lagos. The photographs were made using Thomas's Kodak Panoram camera, which had a swivel lens and created a 'panoramic' exposure measuring 7″ x 2¼" on 105 format film rolls. In contrast to the formality of the documentation photo of the objects lined up with their catalogue numbers, these offer a glimpse of humour, even frivolity, behind the scenes.
In Thomas' photo register, the images are captioned 'Chief dancing', and we can see two robed men in bowler hats dancing in front of an audience of young man and children, some lounging on Thomas' camp chairs. To the left of the photographs is Ngene. It appears that a number of caps have been placed on its head, but they may be placed on top of the iron staff in front. Looking carefully, one can see other objects from collection documentation photograph in the frame, and indeed it appears musicians are playing the drums and rattle that also feature in the object line up. Again, one of Thomas' assistants can be seen, smiling at the joyful spectacle, to the left of one of the photographs.
Notes on Ngene's form
The Ngene figure acquired by Thomas in Awgbu shares many formal similarities to other alusi sculptures from the region, although it is also quite distinctive (it is less naturalistic than many examples). Like many alusi, it has ichi scarification marks on its forehead and a carved pattern on its chest and torso. It has a prominent umbilical hernia, a small penis, large nipples and carved bracelets and anklets. It is made from a single piece of wood and painted with white, yellow and red-brown pigments.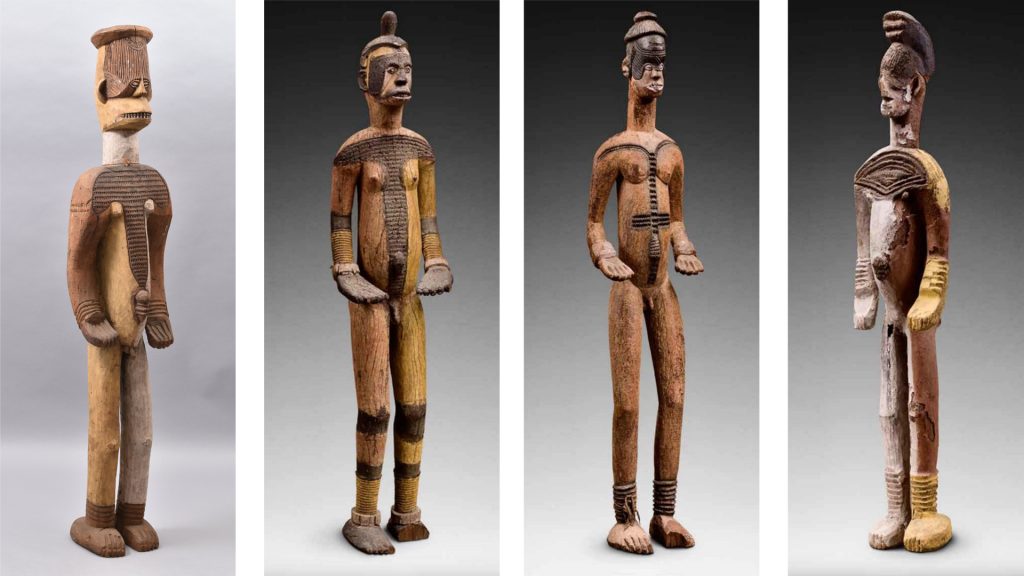 The hands and feet of alusi fugures are often not naturalistic. As Herbert Cole and Chike Aniakor note, 'One conventionalized feature of these carvings, the palms-up hand position, has meanings which contribute to our understanding of the deities and their cults. Informants report that this shows the open-handedness or generosity of the deities, as well as their willingness to receive sacrifices and other presents. The gesture also means "I have nothing to hide", suggesting honesty and a "good face" (1984: 92).
As part of the [Re:]Entanglements exhibition, we will be recreating the line up of objects, including the Ngene alusi figure, as per Thomas' documentation photograph above. These objects are being prepared for display at the conservation labs at the Institute of Archaeology, University College London. The remainder of this article is written by Bill Mastandrea, a postgraduate conservation student who has been working on the figure.
[Re:]Connecting across time: Human hands and the conservator's eye
by Bill Mastandrea
As mentioned in previous blog posts, conservation can help to provide a voice to objects which may otherwise have little to no context. Where objects are left voiceless, we run the risk of losing the valuable, humanizing information which surrounds them. It is these intangible facets of object biography that have personally interested me and propelled me to pursue conservation as a career. While the physical materiality of an object is integral, it is arguably its invisible stories which bring us closer both to it and to the people associated with it. Objects are not simply empty remnants of the past, but are living things, full of traces of what they have witnessed, endured, and experienced. While objects reveal different things to different people, the tools of conservation allow us to see particular narratives that others might miss, helping connect people of the present to those in the past.
As a post-graduate student in Conservation at UCL, the Museum Affordances / [Re:]Entanglements project has afforded me the great opportunity to investigate and conserve this Ngene alusi figure prior to it being exhibited. Here I want to report particularly on discoveries made during the initial stages of the conservation process, including condition checking and visual examination under visible and ultraviolet (UV) light. My observations point to a particular episode in the figure's life history, which will inform my treatment proposal and future work on the object.
Condition checking of the figure began routinely, with investigation under visible light. The figure is carved from a single piece of wood and painted with white, yellow, and red-brown pigments and stands 1.24 metres tall. Intricate carving on the face, chest, upper arms, and stomach are interpreted as representative of scarification marks; and the carved rings around the ankles and wrists, bangles. Prominent areas of physical damage are noted on the head of the figure, where a non-terminal crack has formed, likely from fluctuations of temperature and humidity, and the right foot, which has been broken in two. Small flight-holes in the object are evidence of prior insect infestation, made by boring insects after reaching maturity.
Comparison with historic photographs shows that damage to the foot occurred after it had been accessioned into the University of Cambridge Museum of Archaeology and Anthropology collection. The foot appears to be in tact in a photograph of the figure probably dating to the 1930s held at the British Museum. The crack in the head is already evident in that photograph and, indeed, on close inspection, it can be seen in the field photograph of the figure lined up with other objects. The crack appears, however, to have worsened over time. It is presently unclear when the insect damage took place. Remnant material on the break edge of the foot suggests that someone in the past has attempted to adhere the foot back together.
In order to investigate the historic repair to the foot, the figure was observed under UV light. Some materials, including those used in the creation of objects or in their repair/conservation, have characteristic fluorescence, which can help in preliminary material identification. The use of UV is a valuable tool for a conservator trying to ascertain whether a repair was carried out with an historically-used conservation material, or through a more traditional repair practice carried out by the 'source community' itself. When I inspected the repair on the Ngene figure's foot, the material was crusty and flaky in nature, and barely visible against the colour of the wood under ordinary light. Under UV, however, the material flouresced a pale yellow-white colour.
This routine investigation into adhesive material on the figure's foot under UV light led, however, to the discovery of something unexpected. Hidden in plain sight, but made more obvious by UV light, were a series of hand prints on the back of the left leg and on the back of the head. In visible light, they appear only as a clear, glossy film, while under UV, these hand prints fluoresce strongly, similar in colour to that of the adhesive material used on the foot of the object. What information is there for the conservator to glean from these prints?
After discussion with the project conservator, Carmen Vida, and with Kirstie French, the Cambridge Museum of Archaeology and Anthropology's conservator, it was decided that non-destructive material identification of the adhesive material used to make the hand prints will be conducted. In order to identify adhesive materials, conservators use a number of methods, including solubility tests, microchemical tests and what is called Fourier Transform Infrared Spectroscopy (FTIR). By identifying the material trace on the broken foot, it will be possibly to establish when and where the repair was likely to have taken place. And, by comparing this with the material of the hand prints, we will be able to ascertain if these were left at the same time as the repair or relate to another episode in the figure's biography.
While we wait for the tests to be completed, we can only speculate as to who the hand prints belong to: Perhaps the object's creator, or a member of the community? Perhaps N. W. Thomas himself, or one of his assistants? Perhaps a long-since retired conservator at the Museum of Archaeology and Anthropology? Other questions arise. Do the prints on the head and leg belong to the same person? Were they created at the same time? Their orientation may tell us more about how they came to be left. Was the figure being carried or set up straight?
Further investigation will hopefully provide at least some of the answers to these questions. For now, the hand prints remain an opportunity for personal contemplation. Tactility is an essential aspect of human experience, and one that is experienced by nearly everyone as we navigate through our world. So much of our past has come into being through the hands, as well as minds, of artisans, craftspeople and other specialists. At the very least, these hand prints add to the biography of the Ngene figure, instilling in it yet another story of lived experience with which we can connect.
Reference
Cole, H. M. and C. C. Aniakor. 1984. Igbo Arts: Community and Cosmos. Museum of Cultural History, University of California, Los Angeles.