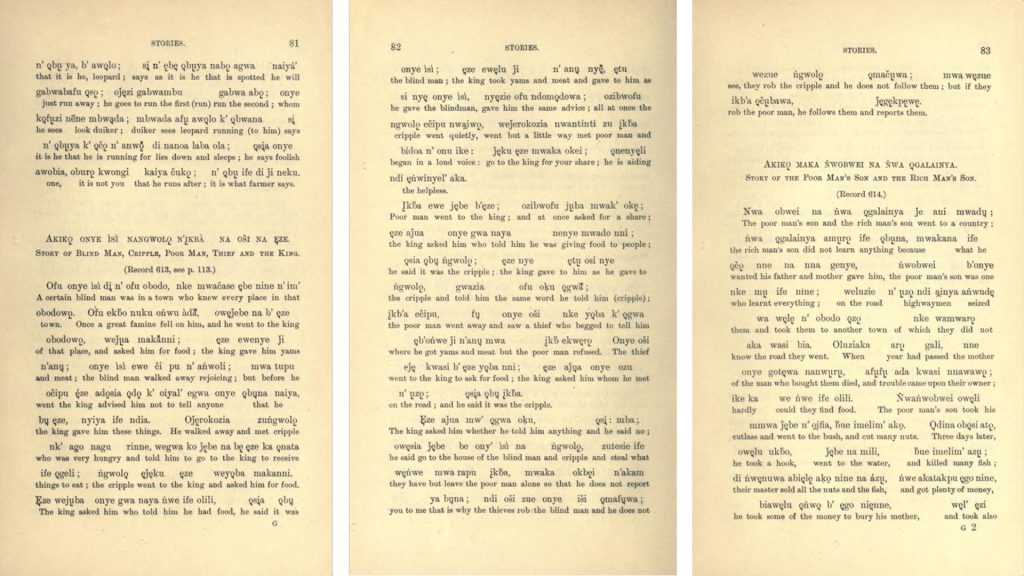 In the early 20th century, the disciplines of anthropology and folklore studies were very close. Prior to his appointment as Government Anthropologist in 1909, Northcote Thomas was a member of the Councils of both the Royal Anthropological Institute and the Folklore Society. Folklorists, in particular, documented traditional stories and songs, and Thomas had edited a number of such collections.
During his anthropological surveys in Southern Nigeria and Sierra Leone, Thomas recorded many stories on wax cylinder phonographs. He transcribed and published many of these in his Anthropological Reports and in articles in the journal Man. Other than regarding these as specimens of 'native texts' (though, of course, they were not 'texts' but oral traditions), he provided little explanation or commentary. Given that his surveys were intended to be of practical value to the colonial governments that were funding them, neither did he attempt to explain the utility of collecting the stories from a governmental perspective. As with so many aspects of Thomas's surveys, while the value of the research at the time was unclear, the significance of the recordings as historical documents is now considerable.
The recordings are, however, challenging to listen to and the transcriptions and translations Thomas provided have many errors and inconsistencies. The potential for future research is immense. To illustrate this the [Re:]Entanglements project has worked with Yvonne Mbanefo of the Igbo Studies Initiative and Ugonna Umeike of the Department of Fine and Applied Art, University of Nigeria, Nsukka, to bring some of the stories to life. Yvonne has rendered some of the stories into contemporary Standard Igbo, re-recorded and translated them, while Ugonna has illustrated the stories, drawing upon Northcote Thomas's photographs for visual reference. Here is one of the stories Thomas recorded in Asaba in 1913…
Akuko onye isi, onye ngwuro, ogbenye na Eze
(The Story of the Blind Man, the Cripple, the Poor Man, the Thief and the King)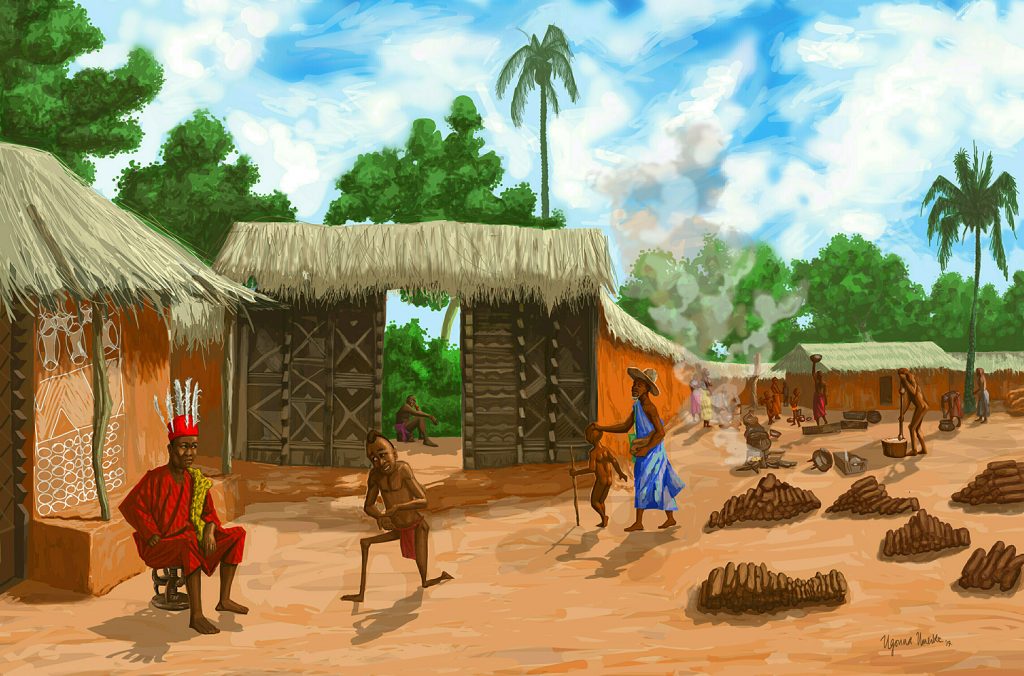 Otu nwoke onye isi nọ n'obodo ọ maara ọfuma oge oke ụganị dakwasara ya.
A blind man was in a town that he knew very well when a great famine befell him.
Ọ gara na be Eze obodo ahụ, wee yọọ ya nri.
He went to the king of that town, and asked him for food.
Eze nyere ya ji na anụ, ọ wee were obi aṅụrị pụọ.
The king gave him yams and meat, and he walked away rejoicing.
Mana tupuu ọ pụọ, Eze nyere ya ndụmọdụ, gwa ya ka ọ ghara ịgwa onye ọbụla na e nyere ya nri.
But before he went the king advised him not to tell anyone that he was given the food items.
Ọ pụwara, wee hụ onye ngwụrọ bụ onye oke agụụ ji,
He walked  away and  met the cripple who was very hungry
Wee gwa ya ka ọ gaa na nke Eze ka ọ nata ya ihe oriri.
And he told him to go to the king to receive things to eat from him.
Onye ngwụrọ gakwuuru Eze wee yọọ ya nri.
The cripple went to the king and asked him for food.
Eze jụrụ ya onye gwara ya na ọ nwere nri.
The king asked him who told him he had food.
O kwuru na ọ bụ onye isi gwara ya.
He said it was the blind man that told him.
Eze weere ji na anụ nye ya, ka o si nye onye isi.
The king took yams and meat and gave to him as he gave to the blind man.
Ọ nyekwara ya otu ndụmọdụ ahụ.
He gave him the same advice.
Ozugbo nje, onye ngwụrọ wee jiri nwayọọ wee laa.
Immediately the cripple went quietly.
Ọ gatụrụ n'ụzọ, wee hụ ogbenye, malite kwuwe n'olu ike
He went a little way, then met a poor man and began saying in a loud voice,
"Gakwuru Eze maka oke nke gị; ọ na-eyere ndị nwere nsogbu."
"Go to the king for your share; he is aiding the helpless."
Ogbenye gakwuuru Eze wee yọọ ya oke nke ya.
The poor man went to the king and at once asked for his own share.
Eze jụrụ ya onye gwara ya na ọ na-enye ndị mmadụ nri.
The king asked him who told him he was giving food to people.
O kwuru na ọ bụ onye ngwụrọ.
He said it was the cripple.
Eze nyere ya ihe ka o sị nye Onye ngwụrọ, wee gwakwa ya ihe ọ gwara ya (onye ngwụrọ).
The king gave to him as he gave to the cripple, and told him the same word he told him (the cripple).
Ogbenye pụwara, wee hụ onye ohi.
The poor man went away and saw a thief.
Onye ohi yọrọ ya gwa ya ebe ọ nwetara ji na anụ mana ogbenye ekweghịị.
The thief begged him to tell him where he got yams and meat but the poor man refused.  
Onye ohi gakwuuru Eze ka ọ yọọ ya nri.
The thief went to the king to ask for food.
Eze jụrụ ya onye ọ hụrụ n'ụzọ.
The king asked him whom he met on the road.
Ọ gwara ya na ọ bụ onye ngwụrọ.
He said it was the cripple.
Eze jụrụ ya ma ọ nwere ihe ọ gwara ya, ọ wee sị mba.
The king asked him whether he told him anything and he said no.
Ọ gwara ya gaa n'ụlọ onye isi na onye ngwụrọ, zuo ihe ha nwere.
He said go to the house of the blind man and cripple and steal what they have.
Eze gwakwara ya hapụ ogbenye, ka a ghara ikpe ya n'aka Eze.
The king told him to leave the poor man alone so that he does not get reported to the king.
Onye ohi zuuru ihe onye isi, ma onye isi ahụghị ya, zuo ihe onye ngwụrọ ma onye ngwụrọ enweghi ike iso ya.
The thief robbed the blind man who didn't see him, he robbed the cripple who couldn't chase after him.
Ọ bụrụ na o zuuru ihe ogbenye, Ogbenye ga- ekpe ya n'aka Eze.
If he had robbed the poor man, the poor man would have reported him to the king.
---
Many thanks Yvonne, Kosi and Ugonna for bringing this story to life for us!