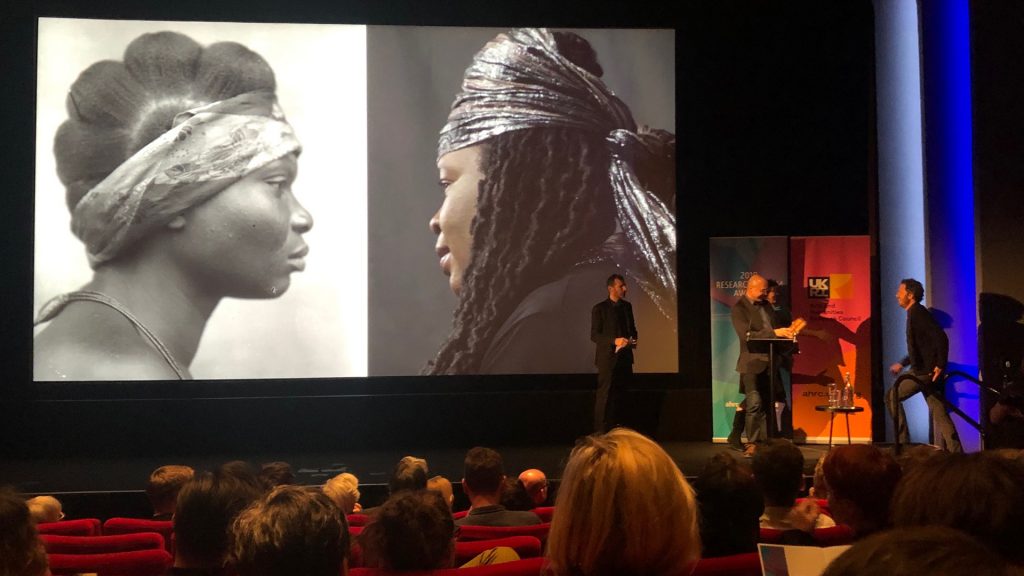 We are delighted to announce that Faces|Voices has won the Best Research Film Award at the AHRC Research in Film Awards 2019. Faces|Voices is the first of a series of films we have produced in collaboration with The Light Surgeons as part of the [Re:]Entanglements project. Participants in the film voice their responses to the silent faces captured in Northcote Thomas's physical type portraits, photographed during his anthropological surveys in Nigeria and Sierra Leone between 1909 and 1915.
The Awards ceremony took place on 12 November 2019 at the British Film Institute on London's Southbank. It was wonderful seeing Faces|Voices projected on the huge screen of the National Film Theatre, and of course it was a great honour to win the top prize. Paul Basu received the prize alongside co-director Chris Allen of The Light Surgeons.
The award resulted in some great media covered for Voices|Faces and the broader [Re:]Entanglements project. Please explore some of the links below.
We would especially like to thank the participants in Faces|Voices – Ebony Francis, Robert Kelechi Isiodu, Kofi Mawuli Klu, Yvonne Mbanefo and Esther Stanford-Xose – whose eloquent commentaries on Northcote Thomas's photographs made the film such a success.