During our fieldwork retracing the journeys made by Northcote Thomas during his anthropological surveys in Southern Nigeria and Sierra Leone, it is a real privilege when we are able to identify the descendants of people that Thomas photographed. Photographs of individuals taken in the context of a colonial project are set free from the archive and become transformed into something magical, able to bring people face-to-face with their ancestors for the first time. People often remark with wonder how, after over a hundred years, through the [Re:]Entanglements project, the photographs have made their way back to the communities where they were taken.
It is equally remarkable when working with the artefact collections assembled by Thomas to identify objects that Thomas photographed in the field, and know these are the very same objects – they provide such a tangible link with the past.
When we visited Samaya, in Tambakha chiefdom, Sierra Leone, the power of photography and material culture to transport us in time and space was brought together. When Northcote Thomas visited Samaya in 1914, he made a number of photographs of Chief Almami Suri Kandeh. Suri Kandeh was a powerful paramount chief, reputed to have had 75 wives! The present paramount chief, Kandeh Sori Kakanday III, is a direct descendant of Suri Kandeh and was overjoyed to see the photograph of his illustrious ancestor.
Thomas photographed Chief Suri Kandeh wearing his regalia of office, including a silver medal known locally as the kingbatankeh – the 'king's chain'. We were thrilled to hear that the medal still formed part of the paramount chief's regalia. The kingbatankeh is not normally seen other than on special occasions, and it is normally only worn by a paramount chief once he has passed through kantha, a period of ritual seclusion, traditionally part of a chief's coronation in northern Sierra Leone. Due to the exceptional circumstances of our visit, however, a ceremony was performed and we were able to see the kingbatankeh and photograph Kandeh Sori Kakanday III wearing it, even though he had yet to pass through kantha.
Actually, there are two kingbatankeh in Samaya, and this is something of a mystery. Thomas's photographs of Chief Suri Kandeh show him wearing a medal with a suspension mount by which it is attached to a chain. According to an article in Sierra Leone Studies written by Robert de Zouche Hall, Governor of Sierra Leone between 1952 and 1956, this silver medal had been given to Samaya's chief by Governor Sir Frederic Cardew in the late 1890s. This was around the time of the anti-colonial Hut Tax War in Northern Sierra Leone, suggesting that Samaya had been loyal to the British during the uprising. The medal, of a type struck in 1883, is still in the possession of the chiefdom, and bears the head of Queen Victoria.
We do not know the exact year that Suri Kandeh was crowned as paramount chief, so it is uncertain whether it was he himself who was awarded the medal by Cardew or his predecessor in office, Kandeh Satanlai. We do know, however, that Chief Suri Kandeh was held in high esteem by the British colonial authorities. In a colonial intelligence report on Sierra Leone's protectorate chiefs, dating to 1912, it is stated that Alimami Suri 'rules his country very well, and is highly respected by his subjects. A strict Mohomedan, and a true friend to the Government'.
The second kingbatankeh in Samaya is larger, does not have a suspension mount, bears the head of King George III and is dated 1814. These medals were known to have been distributed to 'friendly chiefs' in Sierra Leone in the 1820s and 30s. 'Friendly chiefs' were those who were willing to sign treaties and align their interests with the British. Such treaty-making exploited enmities between local polities and was an insidious form of colonial expansion, eventually giving rise to the declaration of Sierra Leone as a British protectorate in 1896. The circumstances and date at which this larger medal came to Samaya are, however, not known to us.
In his 1959 Sierra Leone Studies article, Hall notes that one of the 1814 medals was in the possession of Paramount Chief Bai Samura of Sanda Loko chiefdom. According to Hall's source (a colonial district officer), the medal was presented to Samura Renjia, a Loko chief based at Kamalo. Northcote Thomas's tour took him to Kamalo in Sanda Loko after Samaya, and although Thomas made a photograph of the reigning paramount chief – also named Samura – this unfortunately appears to have been lost. When we visited Kamalo, we were, however, shown a photograph of Paramount Chief Samura Bangura, who reigned between 1942 and 1972, by his grandson Simeon F Bangura.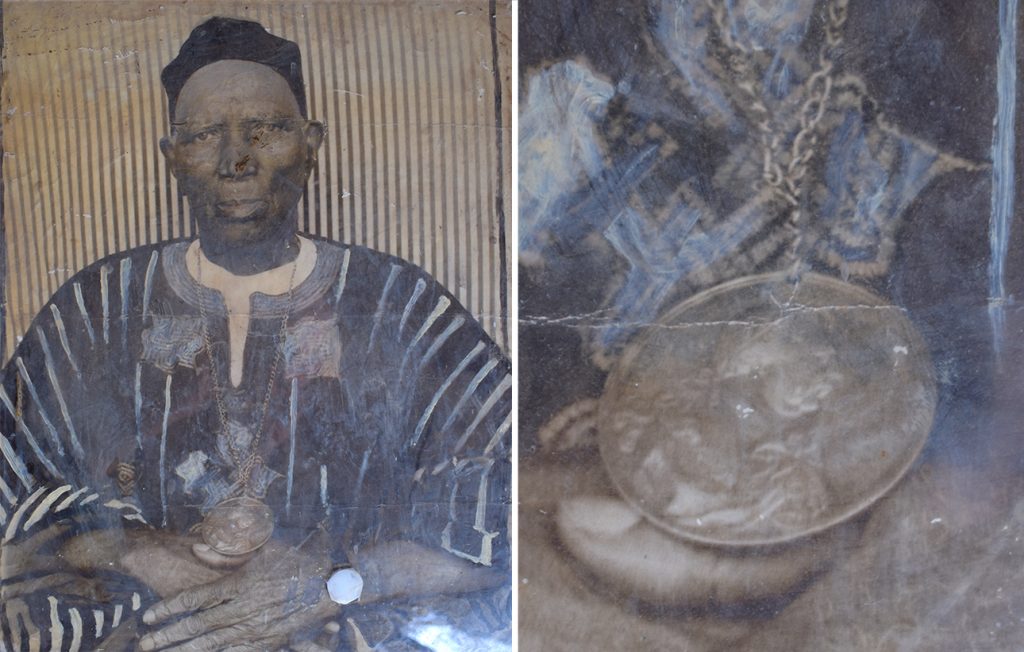 This photograph shows his grandfather wearing what is known in Kamalo as the kingdollar – the medal with George III's head clearly visible. This was also part of the chiefly regalia. Interestingly, even though the medal is known as the king's dollar, the story is that it was presented by Queen Victoria. It might be noted that a treaty was signed between Sanda Loko and the British government in 1837, the year that Victoria came to the throne – it was on such occasions that the medals were presented (indeed, they are sometimes called 'treaty medals'). It is not known what happened to the kingdollar.
These medals have an interesting history. As Hall notes, the 1814 medal was originally struck as a reward to North American Indian Chiefs who had supported Britain during the so-called War of 1812 with the United States of America. Similar medals had been used as 'tokens of friendship' since the eighteenth century, often on the signing of treaties – a practice sometimes referred to as 'peace medal diplomacy'.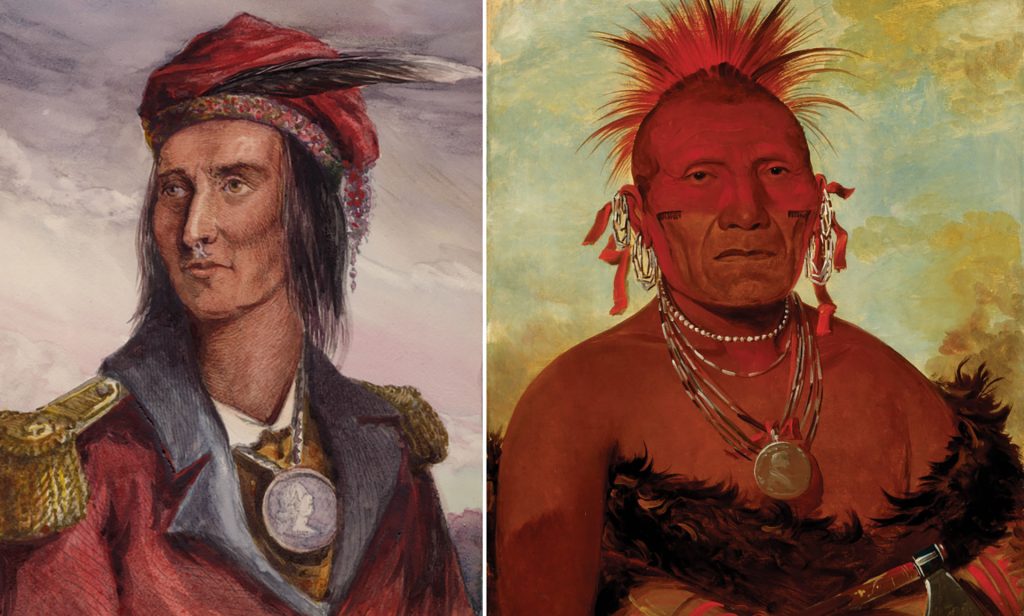 The practice of presenting medals to 'friendly chiefs' was subsequently introduced in West Africa. Hall discusses the various issues of medals used in Sierra Leone, including the two types we encountered in Samaya. Other types can be found on display at the Sierra Leone National Museum, including a much poorer quality pewter version of the 1814 medal introduced by Governor Arthur Kennedy in 1853. These were evidently of such inferior quality that chiefs were ashamed to wear them.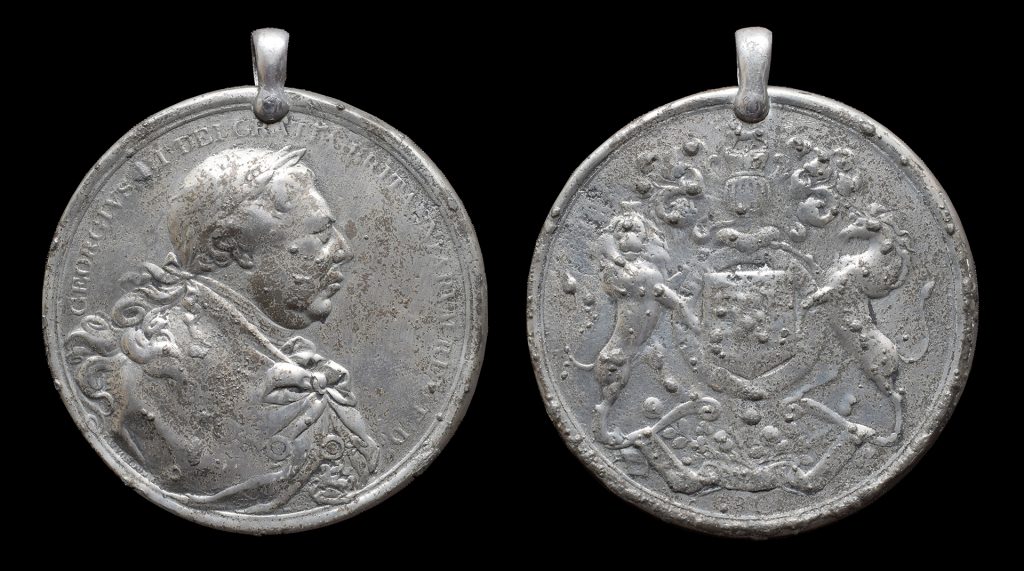 When Governor Arthur Havelock revived the practice of medal giving in the 1880s (a time of extensive British colonial expansion and treaty-making in Sierra Leone), it was with the new, high quality, solid silver issue bearing the head of Queen Victoria – just like the one that Chief Suri Kandeh wears around his neck in Northcote Thomas's photographs.