Northcote Thomas used a number of different cameras during his four anthropological surveys in West Africa between 1909 and 1915. During his first tour, in Edo-speaking areas of Nigeria, his equipment list included a Hunter & Sands Tropical camera and a Goerz camera. On his three subsequent tours, in Igbo-speaking areas of Nigeria and in Sierra Leone, however, his photographic kit included three cameras: an Adams Videx camera, a Stereoscopic camera, and a Kodak Panoram camera. The majority of Thomas's photographs were taken on quarter plate glass negatives on the Videx, but it is clear that Thomas experimented with both stereoscopic photography, also using quarter plates, and panoramic shots using the Kodak Panoram, which used 105 format roll film.
Through the [Re:]Entanglements project, we have been systematically digitising all of N. W. Thomas's photographic negatives and prints with our partners at the Royal Anthropological Institute and University of Cambridge Museum of Archaeology & Anthropology. Until recently, we believed that only Thomas's quarter plate glass negatives and corresponding prints had survived. However, we were excited to discover quite a number of his panoramic prints in the collections in the Museum of Archaeology & Anthropology. On a recent research visit to the National Museum in Lagos, Nigeria, we were also delighted to find a number of these panoramic prints mounted in one of the photograph albums produced during Thomas's surveys.
The Kodak No.1 Panoram camera, which Thomas used, was manufactured between 1900 and 1926. The camera had a swinging lens, which took 3.5 x 12 inch exposures across a 112 degree arc on 105 film stock. An advertisement of the time asserts that 'The pictures taken by these instruments have a breadth and beauty not attainable with the ordinary camera. The wide scope of view makes the Panoram excellent for taking landscapes, as it can cover a wide area without the distortion incident to the use of wide angle lenses'. There is an excellent article on the Kodak No.1 Panoram at Mike Eckman Dot Com.
The more we explore Northcote Thomas's fieldwork photography, the more we learn how innovative he was for the time. For example, during his 1910-11 tour in what was then Awka District, he experimented with using two cameras simultaneously to photograph a scene from different angles. This technique would, of course, become an important technique in cinematography. (The earliest known example of a two-camera set up in cinema was the 1911 Russian film Defence of Sevastopol.) In the example here, we can see that Thomas and his assistants simultaneously photographed what is described as the Ogugu ceremony at Agulu, south of Awka, using both the Adams Videx and Kodak Panoram cameras.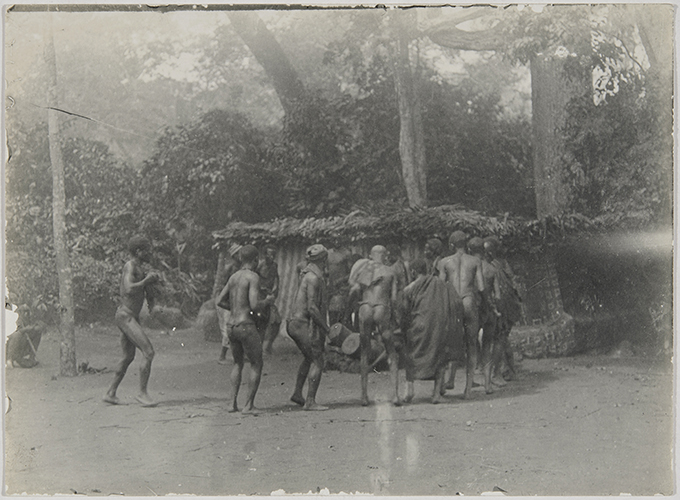 In the resultant sequences of photographs there is a further intrigue, which speaks of the 'excess' of the photographic image, and particularly the peripheral presences that creep into the frame without the photographer's awareness. Of over 7,000 photographs in the archive, there are perhaps only three or four that intentionally show something of the process of Thomas's anthropological survey work. It is only through this photographic excess that we catch glimpses of the endeavor.
To date, then, the only photographs we have seen in which we glimpse Northcote Thomas behind the camera are the reverse shots of the Ogugu ceremony at Agulu taken by one of his assistants on the Kodak Panoram. In the background of the panoramic shot we see Thomas stood behind the tripod mopping his brow together with three of his assistants and items of his kit strewn around. A rare insight into the anthropologist-photographer at work.